Zinc Coated Crimped Welded Wire Mesh
We supply welded wire mesh of differenct sizes and combinations used for Bird Mesh cages, Machine safety guards, Wire mesh fencing, Insulation , Light reinforcements, Building constructions etc.
Galvanized Welded Mesh Panel is made of superior quality welded Mesh, with flat even surface, firm structure, be used extensively in building, food, agriculture and so on.
Type WW-C – Welded Mesh
(Series of parallel longitudinal wires is welded to transverse wires forming rectangular openings, where said longitudinal wires are crimped).
Application :
Standard References
ASTM A810-01 – Standard Specification for Zinc-Coated (Galvanized) Steel Pipe Winding Mesh

ASTM A82-02 – Standard Specification for Steel Wire, Plain, for Concrete Reinforcement

ASTM A641/641M-03 – Standard Specification for Zinc Coated (Galvanized) Carbon Steel Wire.

BS EN 10244-2 – Standard Specifications for Testing Zinc Coating on Steel Wire & Quality Requirements.

ASTM A90/90M-01 – Standard Test Method for Weight of Zinc Coating

ASTM A185-02 – Standard Specification for Steel Welded Wire Reinforcement, Plain, for Concrete.
Welded Wire Mesh Dimensions
S = cross mesh: 46mm, ± 5.0

S = cross mesh: 67mm, ± 5.0

L = line mesh: 25.40mm, ± 2.0

Crimp depth: 12.70mm, ± 3.2

Fabric width: 178.00mm, ± 5.0

Fabric overall width (crimp included): 190.00mm, ± 5.0
Reduction of area
The rupture section of the tensile specimen is measured to determine this property. The wire shall meet the minimum reduction ratio of 30% according to ASTM A82-02.
Welding penetration
The welding penetration shall be calculated using the formula; 85% ≤ thickness of two welded wire ≤ 90% line wire θ + cross wire θ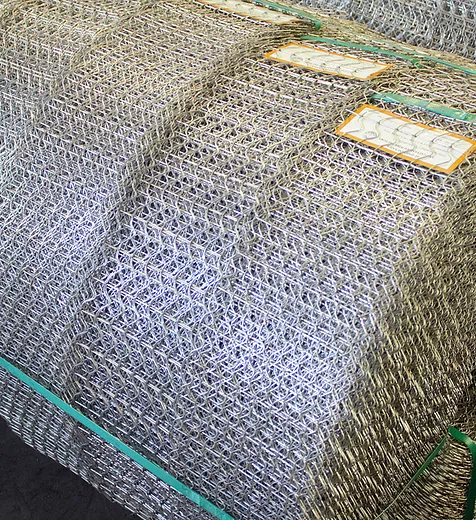 Welding shear strength
The weld shear strength between longitudinal and transverse wires shall have minimum average shear value in Newtons that is not less than 241 multiplied by the nominal area of the larger wire in mm2, according to ASTM A185-02.
Zinc-coating mass
1.40 mm: 55 g/m2

1.60 mm: 65 g/m2
Or as per customer requirement
Packing
Each coil is provided with labels indicating manufacturer's name, type of welded wire mesh, description or dimensions, date of manufacture, coil batch number, weight, and other markings as may be agreed upon with customer.
The end of the roll is secured with tie-wire and each coil to be strapped with two (2) nylon strap band.
One (1) bundle has six (6) coils or rolls secured with four (4) nylon strap bands.
Each bundle is wrapped with stretch film.
Wire diameter and tolerances
1.40 mm: ± 0.040

1.60 mm: ± 0.045
Wire tensile
1.40 – 2.00 mm: 620-825 N/mm2
Welded wire mesh dimensions and weight
Inner roll diameter: 190 mm
Outer roll diameter: 800-850 mm
Weight per roll: Min. 48kg
Length of roll: depends on wire size and cross mesh dimension